Artist Statement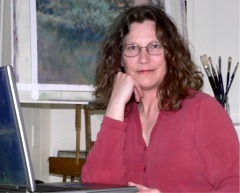 When someone asks me why I paint, the answer is very simple: I paint because I must.
Painting is as important to me as breathing. It's a necessary process for expressing myself. But, perhaps more importantly, it's a journey of discovery. Every painting teaches me something new about who I am.
For as long as I can remember I've loved to paint and draw. Pastels are the ideal medium because they allow me to do both. I'm exhilarated by the vibrant colors and the hands-on process of manipulating them to achieve any effect. Pastels are intuitive, expressive and a joy to work with.
I'm a very visual person and find that I'm captivated by light and shadow, mood and atmosphere, and the spirit of what I see before me. The brilliant hues available in pastels allow me to depict these elusive characteristics. When a subject makes my heart soar I know it's time to pick up my pastels and start expressing what I feel. If I can impart even a fraction of what moves me then I consider the painting a success.
My goals is to produce paintings that inspire introspection; paintings that nurture the viewer's process of self-discovery and self-awareness. My greatest pleasure comes from watching someone who is stopped in front of one of my paintings, completely immersed in it, fully captivated by their own inner journey.
Click here for information about Teresa's workshops, demonstrations and classes.

About Landscapes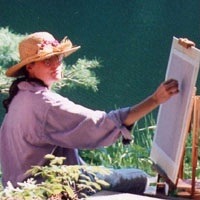 Nature's many moods inspire and nurture me deep to the core. I never feel quite so alive and "sane" as I do when I'm immersed in the great outdoors. One of my greatest joys is to embark on an extended camping trip with my husband and our well-traveled dog - and to spend days at a time engulfed by the beauty that nature provides.
Time away from civilization returns me to my best self. A deep connection to nature's undeniable rhythms inspires my work. I paint landscapes with the intent to convey the wonder and magic I experience while surrounded by nature.

About Portraits
For as long as I can remember I've been intrigued by people - and all of the myriad forms and personalities that make up the human race. As they say about snowflakes, no two are alike!
Early on I studied the human psyche while acquiring a degree in psychology. Over the years I've keenly observed the people around me. It wasn't until I started painting, however, that I found an outlet for what I observe.
Very often I'm initially attracted to the way the light falls on someone's face. But, ultimately, I find myself trying to capture that elusive and unique something that resides within each person, not just the likeness that I see before me. In the process I often discover something about myself and the connection that we all share. Perhaps you'll find something of yourself in these paintings as well.

About the Work
All of my paintings are done on archival paper using the highest quality pastels available today. hey're framed under glass with archival mat board and backing board and placed in sturdy frames to protect them and ensure their longevity. When you purchase an original pastel painting you're investing in a one-of-a-kind treasure that will retain its brilliance for generations to come.

Artist Biography
Teresa Freed spent many years in small business management before turning her attention to her inner artist. As an 'art' quilter, she studied color and design for several years before turning to her first love: painting. An avid gardener, her paintings are inspired by her garden and the scenery near her home outside Chelsea, Michigan, by her travel to exquisite locations and by her reactions to human form, expression and personality.
Teresa's work has been featured in several one-person exhibits and countless juried exhibits of the Ann Arbor Women Artist, the Great Lakes Pastel Society, and group exhibits of the Chelsea Painters. Her work is included in numerous private collections.
Training in the field of art includes undergraduate studies at Eastern Michigan University and classes with nationally prominent artists Don Andrews, Donna Zagotta, Polly Hammett and Judith Carducci.
Teresa is professionally associated with the Portrait Society of America, the Ann Arbor Women Artists, and the Chelsea Painters. She is represented by the Chelsea Gallery in Chelsea, Michigan and the River Street Gallery in Manistee, Michigan. She also accepts portrait commissions.

Classes, Workshops, and Demonstrations
Teresa is sometimes available to present short demonstrations or lectures on working with pastels, and occasionally teaches one- and three-day workshops. Depending on your group's interests, she can focus on portraits, landscapes, or on mastering the pastel medium. Please contact Teresa if you're interested in hosting such an event.

Classes Mailing List
If you'd like to be notified of Teresa's upcoming classes, demonstrations and workshops, please enter and submit your information below.